Sumatra Mandheling
Spices, Dark Chocolates, Big Bodied
The northern most part of the country is 'Daerah Istimewa Aceh', one of 27 provinces in Indonesia which has special status. The Mandheling coffee is grown around lake Tawar, near to the town of Takengon. The soil is rich and volcanic and has grown coffee for many years. Many areas work on the single stem pruning system, and cut the main trunk every 3 years or so – this gives a very solid central producing wood. The surrounding district is pretty tropical rainforest, with coffee sometimes growing wild amongst other trees, other times in cleared areas. The coffee is produced on many small holder plots, and usually pulped and sun dried on patios, without being fermented. There are very few plantations. The final quality is determined by the exporters, who are based in Medan, close to the port, where they hull and polish the green beans.
Area: Lake Tawar, Takengon, Daerah Istimewa Aceh
Process: Giling Basah (Wet Hulled)
Variety: Catimor, Typica
Altitude: 1200 meters
Related products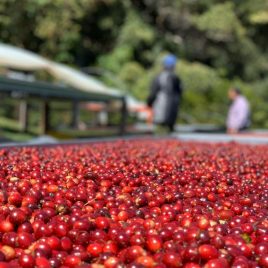 Panama Finca Stal – Eugene Altieri
Mandarins, Berries, Lilies
Finca Stal S.A. is neighbors with the Elida Estate (Wilford Lamastus) where the famed Elida Gesha is from. Farm owner, Eugene P. Altieri is proud that their coffees are regularly in the top lots of every year's Best of Panama Auctions A short interview with Klatch Coffee about some fun facts about himself and the origin of the farm. Read below
I am a native New Yorker living in Panama for about 40 years. I have several businesses in Panama. They are the production of gourmet coffee, ice production, paper converting, office supplies and real estate.
When exposed to coffee production I became very interested in the process and how it could be improved. I acquired two farms in the Boquete region of Panama which were completely abandoned and started to get involved with the Special Coffee Association of Panama (SCAP).
Each farm has its own micro-climate.One is located at about 1350 meters above sea-level and the other extends from about 1600 meters to 2000 meters above sea-level.
The lower farm is in a wet area of Boquete and the higher in a dry area. Due to the difference in meters above sea-level and distinct general climates each has its own unique growing environment and as a result the coffee qualities produced are different.
The lower of the farms produces more from each coffee plant while the higher farm produces less per plant but in general a higher grade of coffee.
The workers of the farms are of native Indian origin. However, the normal living conditions for them are normally very dismal. We decided to change that by starting a pilot program which has improved all aspects of theirs lives.
Instead of being housed in barrack facilities each family now has their own apartment with living, kitchen and bathroom areas.
In order to maintain their families in this housing area each family must sign an agreement with us which prohibits any drinking or family abuse and the entire community is governed by their own board of directors which is responsible for the general behavior of each family and assuring that all common areas are maintained and clean at all times.
Parents and children together attend religious services once a week.
The wives of the farm workers who wish to participate, attend a sewing school on the premises and learn how to make clothing for their own use and for sale at fairs taking place all year long.
The children attend a public school but are bused to and from the school. They also receive private tutoring when necessary and their school grades have improved immensely-some even receiving honor roll grades at the schools they attend.
Once a month the community is visited by physicians who donate their time for general checkups and when required they attend individual problems as they occur.
Area: Boquete, Chiriquí, Panamá Process: Natural Variety: Gesha Altitude: 1750-1800 meters
RM

70.00 –

RM

140.00
ALL GONE
Select options